A class based on the book
"Money Isn't the Problem - You Are"
by Gary Douglas & Dr. Dain Heer.
One of the main excuses for not doing the things we'd like to do in life that no
one can argue with - 'I don't have the money'. What if we could move out of
that mindset of lack?
The universe is endlessly abundant and constantly desiring to gift to us. We
actually have to actively block receiving.
What if money weren't the problem?
What if receiving is the problem and YOU are the solution?
Information about the book, "Money isn't the problem, you are"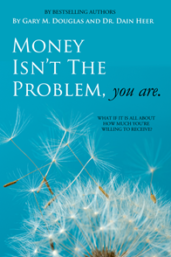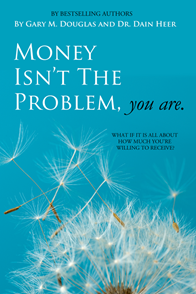 Money Isn't the Problem, You Are is written for people who live in a constant state of difficulty around money, whether its spending too much, not having enough, or having too much.
This books offers you out of the box concepts with money. It is not about money. It never is. Its about what you're willing to receive. What could a different perspective and approach to money do for you and your bank account?
Find out what no one else has ever told you about money! The universe is an abundant place, the tools and techniques in this book will give you a choice to create a different reality.
If you're willing to receive the freedom of life, then money has no value to you.
–Gary M. Douglas
The biggest thing you're unwilling to receive is how incredibly great you really are!
 –Gary M. Douglas
You can listen the first chapter of the book by clicking here >>
*The book is also available in the following languages: 简体中文, čeština, Deutsch, Español,  Français, Hrvatski, Português, Română, Slovenščina, Türkçe.
Information about the authors of the book:
Gary M. Douglas, Founder of Access Consciousness®
Gary Douglas pioneered a set of transformational life changing tools and processes known as Access Consciousness® over 30 years ago. These tools that are on the creative edge of consciousness have transformed the lives of tens of thousands of people all over the world. His work has spread to more than 170 countries, with over 5,000 trained facilitators worldwide. Simple and so effective, the tools facilitate people of all ages and backgrounds to help remove limitations holding them back from the freedom to live and create a life they truly desire.
Dr. Dain Heer, Co-Creator of Access Consciousness
Dr. Dain Heer is an internationally renowned speaker and facilitator of consciousness and change. For over 20 years now, Dain has been co-creating Access Consciousness and inviting people worldwide to embrace their true greatness — people from every culture, country, age and social strata of society. Originally trained as a chiropractor, he has a completely different approach to energetic change and healing by facilitating people to tap into and recognize their own capacities, potency and knowing.
What is the process of this class? How does it go?
It is an online LIVE workshop live (via MS Teams), to which you will receive a link by e-mail with the manual/worksheet and a copy of the book 10 minutes before the broadcast. As your Facilitator, I will guide you through the book with an accompanying worksheet designed to facilitate you in having the greatness of you and the life you desire!
We will process them together and discuss in what situations they are used in real life. I also share my own experiences how they have changed my life and made it easier, which I have always dreamed of.
Teraphy tasting session in value 20 Euros.

Access Bars, Energetic Facelift, Body Processes.
*You can have a look other workshops which are also available in English:
Create more time, more money, more joy >>
Don't you want to read all these?Then, just click below and watch the video version:)
What participants say about the class?
You can download and start redeeming your 'Loyalty Card'.